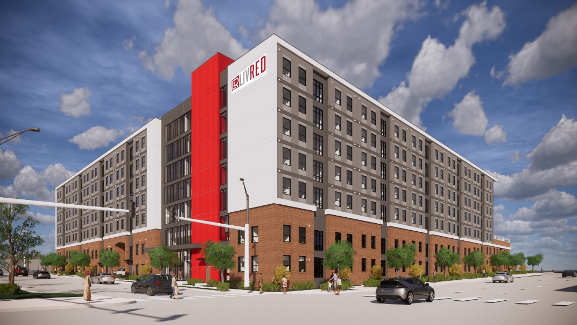 The partnership of Campion Development and Tailwind Group is pleased to announce that they have broken ground on LivRed a new student housing development located adjacent to the University of Nebraska's main campus in Lincoln. LivRed is a $50 Million luxury student housing project that will boast 154 Units & 595 Beds. Located near the University of Nebraska-Lincoln and near the historic "Haymarket Square" and West Campus, the location will provide walkability to most major academic and entertainment areas on campus.
The 7-Story building and parking garage will feature state of the art technologies and exclusive resident amenities. The development features an expansive outdoor recreation area to include a heated swimming pool, hot tub, outdoor fitness areas, multiple outdoor kitchens as well as a dog park and wash station.
The interior community spaces will include a large fitness center, spray tan stations, functional lounges and gaming areas, group and private study rooms, an "Uber" Lounge and an Amazon package room. The fully furnished 1,2,3 and 4 bedroom units all with En-suite bathrooms will be outfitted with the latest wireless technologies to include keyless entry, smart-thermostats and high speed wi-fi connectivity and luxury finishes that include luxury plank flooring, stone countertops and stainless appliances. This will truly be the premier living option for UNL students and young professionals alike.
The project is financed in part by City of Lincoln TIF redevelopment funding that will assist in providing energy efficiency, building façade and significant streetscape improvements to the M, 9th and 10th Street corridors. Construction financing is to be provided by Bridgewater Bank with additional investment via Opportunity Zone funds.
The project's development team includes the award-winning local Lincoln contractor Sampson Construction with Architecture by Grace Hebert Curtis Architects and Engineering and Civil design by Lincoln's ETI and REGA Engineering.
LivRed will commence preleasing in Fall 2021 and is slated for opening in August of 2022 to coincide with UNL's fall semester.